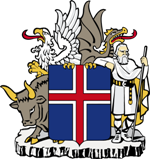 The rise in value of Iceland's currency has slowed the country's annual inflation rate.
According to figures released by Statistics Iceland, inflation in the North Atlantic country dropped to 4.1 percent from 4.6 percent between July and August, alongside a 0.2 per cent decrease in consumer prices.
The news comes just a week after Sedlabanki – Iceland's central bank – said it would be leaving its 5.75 percent interest rate unchanged after five rises in just a year's time. Officials from Sedlabanki are looking to achieve an inflation rate of 2.5 percent by 2015, with the largest drop coming between 2013 and 2014.
A statement released by the bank on 22 August said, "The inflation outlook for the next two years has improved since the Monetary Policy Committee's last meeting, although inflation is not expected to reach the bank's inflation target until the end of the period."
Meanwhile, Arion Banki HF researcher Asdis Kristjansdottir told clients prior to the announcement, "In the short term, matters have certainly improved but the flip side is that the winter could turn out to be more challenging as the current krona exchange rate can't be maintained, unless the central bank and the government can, through craftiness, prevent the krona from weakening," Bloomberg reports.