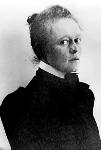 Finland's top art museum has discovered a previously-unknown painting by the country's renowned realist Helene Schjerfbeck.
Employees of the Ateneum museum in Helsinki came across the work this week when they spotted stitching on another painting by Schjerfbeck whilst preparing her works for an upcoming exhibition. Upon removing the top painting, they discovered another piece – an unseen portrait of a mother and child.
Officials say the 'new' painting, which was unveiled in the presence of media and art connoisseurs, is likely to be more than 120 years old. The work was discovered behind a Raseborg 1890 landscape, which is owned by a private collector that had loaned it to the museum for the exhibition. The collector now owns both paintings, which will be on display at the Schjerfbeck exhibition.
Experts say that the mother and child portrait may have been painted during one of Schjerfbeck's undocumented work trips to the French capital.