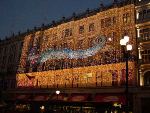 Icelandic bank Landsbanki is reportedly negotiating a deal to sell Hamleys toy retailer to its larger France-based counterpart.
Reports this week stated that UK-based Hamleys is likely to be sold off to French retail firm Ludendo before the end of the month. Ludendo currently operates retail toy outlets in Spain, Switzerland, Belgium and France, the Sunday Times reports.
Following negotiations with Ludendo, experts say that Landsbanki has not sought additional offers for the toy retailer.
The news marks the latest auction by the Icelandic bank amid an ongoing effort to shed a number of its assets. Landsbanki, which currently holds a 65 per cent stake in Hamleys and large stakes in a number of UK high street retailers, is reportedly looking to return funding to creditors. The bank acquired the majority share in Hamleys in 2008 after its previous majority shareholder, Iceland-based investment firm Baugur, went broke.
The news follows a similar deal for one of Landsbanki's retail investments earlier in the year, in which it sold Iceland's Malcolm Walker frozen food chain back to its founder for some £1.45 billion.