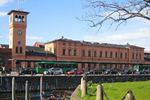 Organisers have announced that next year's Eurovision Song Contest will take place in Malmo in southern Sweden.
But the announcement from producers on Sunday has apparently angered many fans that have been counting on the notion that the contest would be taking place in Stockholm after Swedish singer Loreen won the event in Azerbaijan earlier in the year.
Twenty-three-year-old Walter Lourenço, a self-proclaimed Eurovision fanatic who had already made hotel reservations in Stockholm, told The Local, "But why have they chosen Malmo? It's completely crazy." In contrast, some fans have expressed approval to Swedish news media.
Meanwhile, Eurovision executive producer Martin Österdahl said in a statement, "The fact that we chose Malmo was thanks to the really good infrastructure and that we have had good experiences with the Melodifestivalen and even the Eurovision Song Contest in the city," reports the TT news agency.
Officials also noted that Globen Arena – the organisers' first choice for the event – was already booked for men's ice hockey World Championships and concerts during the desired timeframe. They said in this light that Malmo Arena was a better fit for Eurovision than the alternative, the Friends Arena north of the capital.