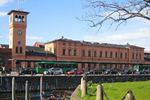 The man suspected of carrying out a string of immigrant killings in Malmö has admitted to a Swedish court that he may have worried in the past about killing others.  Peter Mangs, 40, confirmed that he feared "he might hurt someone", a year before his first suspected victim was shot in July 2003.
The 23-year-old victim was shot in the stairwell of his Malmö apartment building and died later in hospital. After Mangs' 2010 arrest, a bullet, which was lodged in the door of the victim's apartment, was found to be compatible with guns owned by the 40-year-old.
"Mangs denies the charge. He hasn't been at the scene of the crime and the victim is not someone he has ever met, seen or even heard of before reading about the incident in the paper," said defence lawyer Douglas Norking, according to The Local.
Mangs denies a claim by the prosecution that he sought medical treatment around a year before the first death because he had an enhance interest in death and cannibalism. "I have no interest in eating people," he told the court.
When asked about whether he feared he would hurt someone, however, Mangs said, "That is probably correct. But then I have been carrying out extensive research in psychology and psychiatry and that was one of my interests at the time." He also admitted he wanted an expert's "take on things", as well as a picture of his brain, "Just as a piece of art."
He later admitted that it was possible that he sought medical help because of a fear he might kill someone. He however answered that there are "several ways to kill a person" when asked why he purchased a number of guns six months before the 23-year-old's death if he indeed harboured such worries.
As well as the 2003 murder, Mangs is being charged with two more counts of murder and 12 of attempted murder for alleged attacks against Malmö's immigrant population between 2009 and 2010. The prosecution believes he acted as a lone , picking off his victims on the street and through windows.
Mangs denies all the charges and the case continues.