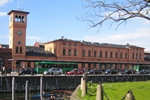 A Swedish man accused of shooting scores of immigrants in Malmo has begun his trial this week. Peter Mangs, 40, is charged with three counts of murder and 12 counts of attempted murder following a string of attacks that saw the city's prominent immigrant population scared to leave their homes.
Although most of the victims were from foreign backgrounds, chief prosecutor Solveig Wollstad told the court that there is no clear motive for the attacks, which mainly occurred between 2009 and 2010.
After months of investigation, Mangs was finally arrested following a tip off from a member of the public. He was also subsequently linked with two other murders from 2003, although he denies all wrongdoing.
The shootings, which terrorised the city's immigrant population, received widespread coverage in the Swedish media at the time. The victims were shot through shop and apartment windows, in car parks and on the street, leading to heavy criticism of the police.
Among those killed was 20-year-old Trez West Persson, who was shot while sitting in a car near a mosque with a dark-skinned friend. Her friend was left seriously injured after the attack.
Inspector Borje Sjohlm said the suspect acted alone and use different barrels of his gun, making it harder for him to be tracked.