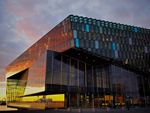 LS Retail Partner Conference 2012, a business software solutions event, kicked off in Reykjavík today, with an impressive turnout of over 200 guests from 37 different countries.
The business conference is the premier LS Retail event where Partners, LS Retail, Independent Software Vendors (ISVs), and Microsoft come together.
The Partner Conference combines Keynotes, Technical Workshops, as well as seminars for sales and marketing professionals. This year's conference will be focusing especially on LS Retail NAV 6.3 and 7, Mobility, new products based on .NET, and the company's future products and solutions.
LS Retail Partner Conference 2012 will be running until 16th May at the Harpa Concert Hall and Conference Centre.
More information regarding the 2012 LS Retail Partner Conference can be found via http://www.lsretail.com/partnerconference2012.aspx.