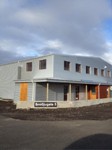 IV Iceland (IVI), a subsidiary of Iceland Ventures Limited, has completed the construction of its first factory on the Snæfellsnes peninsula in Iceland. The factory, which is located in the small town of Rif, is now ready to accommodate all operations and is currently awaiting the bottling plant.
Iceland Ventures Limited recently signed an exclusive water rights agreement with the municipality of Snæfellsbaer to extract premium quality glacier spring water from Snæfellsjökull glacier for the next 62 years.
Working in partnership with the local community, the company will extract the water through the use of a new piping infrastructure, which will be delivered to the newly complete dockside factory where it will be bottled and exported.
Work on the factory commenced at the end July 2011 and was recently completed on time and within budget. The building includes changing room and shower facilities for staff working in the production area, as well as offices and a staff canteen.
The factory floor has been constructed to withstand the weight of a container lorry and the building includes 4 large loading doors for deliveries and exports. The building has also been designed and completed to meet with all local health and safety regulations and will provide jobs to the area and improve the local economy.
IV Iceland is now in the process of finalising its product and plans to be fully operational and on the market by the end of 2012.