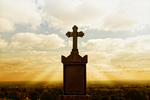 A Swedish saxophonist who frequently performed while dangling from the side of skyscrapers has died after his safety equipment failed at a street festival in Germany.
Finn Martin, 49, who was born in Sweden but has spent most of his successful career working abroad, plunged 20 metres to his death in front of a shocked audience in Leipzig on Friday evening.
In the party trick known as 'Vertigo', which Martin had successfully pulled off countless times before, the 49 year-old was due to vertically walk down the facade of a building while playing to cheering fans. He was scheduled to perform four 15-minute sets while images were projected onto the building behind him.
After the musician's harness suddenly broke and Martin crashed to the ground, a doctor confirmed that he had died from the impact. Police are working on the assumption that the safety equipment failed, but are investigating whether anyone on the team had been working while drunk, The Local reports.
"He was a world-class artist, one of the top-ten saxophone players in the world, but almost unknown in Sweden," Martin's cousin Peter Martin told the Aftonbladet newspaper. He added that the daredevil act helped his cousin raise money for music projects in Africa.
"Finn had a passion for African music," he told Aftonbladet. "His art was his life and he was an artist and musician all the way to his fingertips."
On his personal website, Martin described Vertigo as "an unusually emotional music aerial performance". In 2005 he performed the act on a 150-metre tower in Cologne.