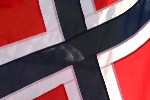 Norwegian police are interrogating several Britons who they believe may have been accomplices of confessed mass murderer Anders Behring Breivik.
Paul Ray, an anti-Muslim blogger from the UK who was questioned by police after being mentioned in Breivik's so-called 'extremist manifesto', has apparently offered up the names of several far-right groups and individuals, as has Breivik himself in further interviews.
"We have some names and also some groups we are investigating," said Roar Hanssen, press office for Oslo Police. "They came from Paul Ray, and also from Breivik and also from other things we have been investigating."
Breivik, 32, admits killing 69 people in a shooting spree at a Labour Party youth camp on Utoya Island shortly after setting a bomb at government buildings in Oslo, killing eight. He mentioned a number of influences in a 1,500-page document which he published online just before his day of killing on 22nd July.
Investigators are said to be particularly interested in Breivik's ties to the UK and a group known as the Knights Templar. "A lot of people are mentioned in Breivik's manifesto and we, of course, want to speak to them, and there are some links to the UK. I don't know if there are specific areas they are from but there are some right-wing groups," Hanssen said.
There have been claims that Ray, who blogs under the pseudonym 'Lionheart', may have been the 'mentor' the terrorist wrote about in his manifesto. The 32 year-old said he met an influential man who went by the name of Richard (after Richard the Lionheart) at the founding meeting of the Knights of Templar Europe 'Military Order' in London this year. Ray, however, claims he has never met Breivik and says he condemns his actions.
Breivik has also said he has the support of the English Defence League (EDL), with 600 members apparently friends of his on Facebook. The organisation has, however, insisted it is a non-racist and peaceful organisation which has had no official contact with the Norwegian, according to a report by The Guardian.