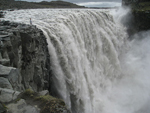 Iceland holidays across the bank holiday weekend in the UK could see a rise as the senior travel editor for The Independent, Simon Calder yesterday published an article about his time recently spent in Iceland titled, 'Iceland: Wonder at the edge of the world'.
In the article, Calder recalls his experiences across the northern part of the country, including his fascinating visit to Dettifoss, the most powerful waterfall in Europe, where he vividly described the waterfall as "a howling torrent that roars over a jagged lip of rock, plummets 150ft and fuels a perpetual rainbow before continuing its journey, carving a dramatic canyon through the fresh rock of this young island."
As well as Dettifoss, there are a variety of waterfalls and unique geological landmarks that make up Iceland's one-of-a-kind landscape. Some of the most impressive include Selfoss, Godafoss, Skogfoss and Gullfoss, which is a main attraction of the popular tourist route 'Golden Circle' near the capital of Iceland, Reykjavik.
Coincidentally, Icelandair is offering a package deal for UK travellers, ideal for a bank holiday weekend getaway. The airline's 'Spring Special' package deal includes flights to Iceland from Manchester, Glasgow, or London Heathrow, and three nights in selected accommodation in Reykjavik. This excellent Iceland holiday deal begins from only £239 each, giving those travelling from the UK a great opportunity to explore the wonders of Iceland for an outstanding price.
To view Simon Calder's interesting 'Iceland: Wonder at the edge of the world' article, click here.
For further information on Iceland holidays, bank holiday weekend getaways in Iceland and flights to Iceland, visit www.icelandair.co.uk.