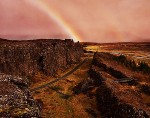 The Iceland travel and tour provider, Netbus offers daily tours to the Golden Circle in Iceland, allowing you to experience the magnificent Gullfoss waterfall, the magical Geysir and the breathtaking Thingvellir National Park.
The tour provides passengers with enough time to explore the Geysir area, observing the most active hot spring Strokkur, spouting steam up to 20 metres high.
Passengers will also head to the highlands to visit the beautiful Gullfoss "Golden Falls" waterfall and the glacial river, Hvita. Additionally, tour participants will get to see the lake Thingvallavatn and continue through the rift valley between the continental plates to Thingvellir National Park, where the first Icelandic parliament, Althing, was established.
Jaz Dhillon, a Netbus customer explained, "The Netbus Golden Circle Tour was so much fun, especially within a smaller group. Netbus provided a punctual, informative and enjoyable service, all at prices cheaper than others."
With over 50 years of experience, the Iceland travel provider offers high quality bus trips across Iceland as well as professional guided coach tours and airport transfers. The company has always believed in providing great services at affordable prices and still continues to do so to this day.
Departure is at 08:30 every day. You will be collected 30 minutes before departure and the tour last 8 hours. For more details on Netbus' Grand Golden Circle Tour and to make bookings, check out www.netbus.is or call +354 511 2600.