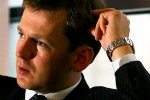 The former President of Kaupthing Bank, Hreidar Mar Sigurdsson has been arrested in Reykjavik, accused of criminal malpractice.
Police arrested Sigurdsson on the orders of Iceland's Special Prosecutor into the banking crisis, Olafur Thor Hauksson. Hauksson and his team continue to work closely with international white-collar crime investigator, Eva Joly.
The Special Prosecutor put in a request for two weeks' police custody to the Reykjavik District Court today, but the judge decided to adjourn the case for a day. This means that Hreidar Mar Sigurdsson will stay in police cells until tomorrow at the earliest, and possibly longer if he does not receive bail, Visir.is reports. If convicted, he faces up to eight years in jail.
The Special Prosecutor and his team have been investigating alleged 'institutionalised market abuse' within Kaupthing; and the investigation even included raids in Luxembourg.
According to RUV, Sigurdsson was arrested on charges of filing/documentation infractions (IS: skjalabrot), embezzlement, breaking laws on bond trading, and for breaking the laws governing limited companies.
Hreidar Mar was the President of Kaupthing Bank for many years following its privatisation and also had the dubious honour of being Icelandic 'Tax King' (Tax records in Iceland are made public for a short period each year, and it is assumed that the highest tax payers – or Tax Kings – are also the highest earners).