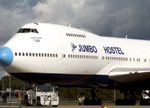 Just seven months after it opened its hatch for business, the world's first hostel built within an abandoned jumbo jet has been put up for sale. The novel lodging, which is parked on a hill outside of Stockholm's Arlanda Airport, was a headline stealer when it first opened, but it seems it was an ill-timed move.
Owner Oscar Dios told The Local that he doesn't want to sell his latest hotel venture, but cash flow and a lack of customers is making life difficult. "We want to keep the concept alive and need to bring in new backers, and new capital, to develop it," he said.
The decommissioned Boeing 747, which opened in January, instantly captured the attention of media and budget travellers across the globe. The prospect of staying overnight in one of the hostel's 24 rooms had both practical and aesthetic appeal, a fact that drove hotelier Dios to finance the venture.
"It was great as it combined our need for airport accommodation with that of finding a use for the plane," he told The Local prior to the grand opening back in December 2008. But Dios has found that trying to run his other hotel in Uppsala as well as be a father has proven too great a burden on his time. 
"Whether we sell it, bring in a partner or develop some sort of franchise arrangement, they are all possibilities," Diös said, without mentioning any prices. He did disclose to The Local that several interested parties have already contacted him about both the Arlanda hostel as well as possible future jumbo jet hostels. So the dream is still alive.
See more at the Swedish news source, TheLocal.