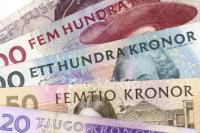 The 1.5 trillion kroner bank rescue plan announced by the Swedish government in October has been given an extra six months, and is now set to expire on 31 October. The government has offered Swedish banks and financial institutions with liquidity issues a guarantee to help them secure future loans, but the global recession has slowed the process of restoring economic stability.
Financial Markets Minister Mats Odell stated: "Even though the financial markets today are functioning better (than in October), the global financial crisis and its impact on jobs and companies in Sweden is far from over."
Swedbank is the only Swedish bank to take advantage of the funding, which has been shunned by other banks due to the strict rules attached to the loans. Banks are also unhappy with the obligatory "stability fund," which calculates the amount each bank owes the national fund based on their lending in Sweden.
This concept favours the big risk takers like Swedbank, which have lent heavily abroad, while hampering smaller institutes like Handelsbanken. "This will make it cheaper to lend money to foreign companies than to Swedish companies," deputy Handelsbanken chief Bjorn Borjesson complained of the fund's regulations.
Also in the pipeline is a government effort to prevent senior executives at Nordea from taking huge bonus payouts. It has already managed to do this with telecom giant Telia Sonera, but expects more opposition from Nordea.