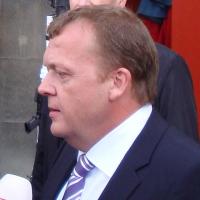 It's the same name but a new face on the Danish prime minister, Lars Lokke Rasmussen, who has taken over the country's top position from Anders Fogh Rasmussen, who stepped down to run for the top NATO spot. The two men may share the same surname, but their pasts couldn't be more different.
Lars Lokke Rasmussen was once wanted for murder by Interpol. But that was just a misunderstanding resulting from his charity work establishing schools in Afghanistan in 1988. The Copenhagen Post reports that as a young man Rasmussen founded Operation Skoleprojekt to funnel money to the Mujahideen to establish schools in their Soviet-occupied nation.
While in Pakistan, Rasmussen and three other Danes were arrested on charges of murdering a Swiss woman staying in their hotel. Jailed and then released, this was just one of the adventures Rasmussen endured on his path to becoming prime minister of Denmark, a position he long coveted.
Although he'll have the job until the next elections in 2011, Rasmussen will face heavy opposition due to his controversial life as a politician. He put himself in the hot seat on many occasions during his tenure as mayor of Frederiksborg County and as the health and interior minister for various personal issues, usually involving his expenses. So Denmark should be in for an exciting ride over the next couple of years, to paraphrase the words of the incoming prime minister himself.