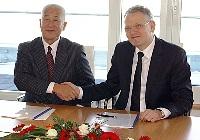 Actavis Group and Japan's ASKA Pharmaceutical have formally signed an agreement establishing a joint company: Actavis ASKA K.K. with its head office in Tokyo. The preliminary agreement was signed last November.
ASKA will hold 55% of shares in the joint venture; Actavis 45%. The joint company intends to enter the Japanese generic pharmaceutical market in April 2009.
Actavis is convinced that this is the best way to enter the Japanese market, the second largest pharmaceutical market in the world. With ASKA as an experienced local partner, Actavis brings the power of a global generic pharmaceutical company to the table. "We are very much looking forward to a long and successful partnership. The government's policy to increase the share of generics during the next few years is key to our decision to enter at this time," Said Sigurdur Oli Olafsson, CEO of Actavis.
ASKA Pharmaceutical is a research and development (R&D) oriented company, located in Tokyo. Contributing to society by developing and providing innovative pharmaceutical products, they concentrate their management resources to the specific therapeutic areas.
Actavis is among the world's largest companies in the generic pharmaceutical industry. Founded in 1956, the group has more than 10,000 employees operating in over 40 countries around the globe. Actavis' headquarters are in Iceland.
(Actavis press release)