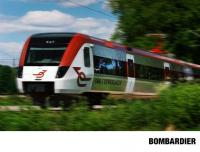 The Swedish government will likely end its state rail monopoly on all passenger traffic by October 2010. Currently operated by SJ, the government is making the move to open up the sector to more competition.
"In the proposition 'Competition on the rails', I recommend gradually opening the passenger rail traffic market," Communications Minister Asa Torstensson wrote in the Dagens Nyheter (DN) newspaper. "SJ's monopoly to conduct commercial passenger traffic will end," she added, noting that the bill that still needs to pass through parliament.
Under her proposal, Sweden's railways would initially open to competition on weekends as soon as July. International passenger railway traffic would open up in October, followed by the national network a year later, The Local reports.
"We will be able to choose between a greater range of offerings and a greater variety of prices, departures, services and comfort levels," Torstensson wrote, comparing the move to Sweden's deregulation of passenger air traffic in the early 1990s.
"It has simply become a lot easier and cheaper to fly. I want to (…) see a similar development on the railway," she said. The plan is also in step with an EU-wide proposal to open international passenger train services to competition across its entire bloc by 2010.