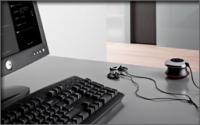 Once again, Denmark has ranked first in the world when it comes to using Information Technology (IT), by the World Economic Forum's Global Information Technology Report for 2008-2009. The report rates nations on their readiness and competence concerning IT.
This is the third year running that Denmark has taken the top spot, but this time it was a close shave with Sweden, who ranked a mere 0.01 overall score behind the Danes. Of the 134 countries ranked by the report for "good education fundamentals and high levels of technological readiness and innovation," Denmark scored top in seven of the 68 individual categories, according to the Copenhagen Post.
Freedom of the press, depth of business staff training, and the efficiency of its legal framework were among the major categories where the Danes ranked top. Danish residents are also apparently the world's number one broadband subscribers. The nation boasts the most pervasive high-speed Internet connections on the planet. Categories where Denmark did not fare so well included the price of Internet use, intensity of local competition, and tax rates.