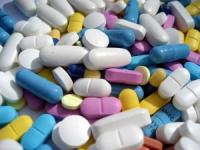 Figures just released from Denmark's National Patient Registry indicate a substantial rise in the number of teenage girls who have been admitted to hospital due to overdosing on painkillers. The trend has been steadily increasing in recent years, rising seven percent alone since 2007.
Politiken reports that 898 teenage girls were admitted to hospital last year after consuming a lethal dose of common painkillers. In 2008, some 2,632 Danes overdosed on painkillers, and teenagers made up 38 percent of those cases.
Although Denmark introduced warning labels on painkiller bottles five years ago, overdoses have increased by 40 percent among teenage girls since 2003. A senior consultant physician at Bispebjerg Hospital, Merete Nordetoft, told Politiken many of the suicide attempts were impulse acts.
"In half of the cases, the girl has only thought about it in the last hour before she takes the pills. They reach for the nearest thing, which is often a large bottle of paracetamol. It should be issued on receipt, so less families will have them lying around," suggested Nordetoft, who pointed out that a similar move helped alleviate the problem in Britain. For now, however, Denmark's Health Minister has no plans to take aspirin off Danish shelves.