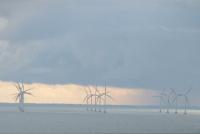 Copenhagen's city councillors are putting aside their different views to unite under a new campaign to make the Danish capital the world's first carbon dioxide neutral capital city. The plan was introduced at a recent press meeting with Mayor Ritt Bjerregaard and the capital's six deputy mayors.
The ambitious goal of reaching CO2 neutrality by 2025 will be achieved by 50 specific initiatives as well as an overall citywide CO2 reduction of 20 percent, the Copenhagen Post reports. Although the disputes between the mayor and his deputies at City Hall over the past two years are well known, everyone involved agrees that cutting carbon dioxide emission is a major priority.
"We're putting this plan up for public debate prior to any political action at City Hall. We want to have feedback and good ideas for how Copenhagen can show the outside world that city development and climate-conscious activity go hand in hand," the mayor told reporters.
The new initiatives include more investment in wind power and alternative energy vehicles, as well as green renovations of public buildings and schools. The mayor feels that to achieve the goal, the city must work closely with business, research facilities, and the general public to fulfil the plan.