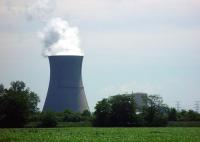 Finland is debating whether it needs a sixth nuclear power plant, and several firms are vying to win the contract to build it. The Finnish utility company Fortum Corp is the latest to apply for permission to build the new nuclear reactor, which would sit on the nation's southern coast near Helsinki.
The problem facing the Finnish government is deciding who should be given the contract to build the power plant, which will generate between 1,000 and 1,600 megawatts when it goes online. If Parliament decides to pursue the plan, it will built next to the two existing nuclear reactors in Loviisa, a town 90km east of Helsinki.
Fortum hopes to begin construction during the next decade and have the power plant up and running as early as 2020. Fennovoima, a huge multinational consortium, has also applied for the contract, as has the Finnish utility company TVO, which is presently working on Europe's first European Pressurised Reactor, or EPR, along Finland's west coast.
Economic Affairs Minister Mauri Pekkarinen is cautious about giving construction permits for a nuclear power plant to more than one company at a time, reports the International Herald Tribune. "It would be one of Europe's single largest construction projects if a 1,600 megawatt or 1,800 megawatt nuclear plant is being built," Pekkarinen said. "It's clear that we have to limit construction here in Finland."