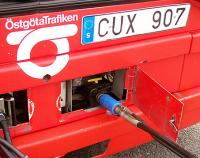 Biomethane, the gas created from human excrement, will soon be collected and used to power Oslo's public transportation buses. This free and environmentally-friendly form of fuel will turn a waste disposal issue for Norway's capital into a solution rather a problem if all goes as planned.
Now that Norway has pledged to become carbon neutral by 2050, the government has been exploring many ways to cut back its carbon footprint. Using human waste is the latest ambitious idea explored by Oslo's city council, the news agency Ecoworldly reports. Air pollution from both private and public vehicles accounts for 50 per cent of Oslo's CO2 emissions, so tackling vehicle pollution seems a logical place to start.
From September, the biomethane produced from Oslo's raw sewage plants will be trapped and converted into a fuel capable of running 200 of the capital's public buses. Ole Jakob Johansen, the leader of the project, said "Oslo aims to be one of the most environmentally sustainable capitals of the world. Using biomethane makes sense. Not only would the biomethane otherwise be wasted, but the reduction in emissions per bus will go a long way to achieving our carbon-neutral target."
Oslo's city buses, which are diesel, only need minor adjustments to the engines to use biomethane. Tanks will be stored on top on the buses, and will drive noticeably quieter than at present.