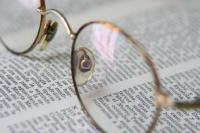 Since 2000, the Swedish government has given special national minority status to the languages of its ethnic minority groups. These include Finnish, Torne Valley Finnish (meankieli), Yiddish, Romani, and all Sami dialects. The Swedish government has now promised it will do more to promote and preserve these unique languages before they die out.
The Local reports that Sweden's Integration Minister, Nyamko Sabuni, feels "the future of national minority languages is uncertain, and for some of the languages, the situation is dire. A collective strategy is needed in order to meet the needs of the national minorities, increase awareness of these national minorities, and to ensure Sweden does a better job of living up to its human rights commitments."
The government has plans to allocate an extra 70 million kronor after 2010 to reform the country's minority policies. This is a major increase from its current funding of 10 million kronor. Sabuni says that any citizen of Sweden has the right to communicate with the government in Finnish or Sami if they choose, so all of the government's five major agencies must hire staff who can fluently speak these minority languages.
"Regardless of where in the country you live, you should, when contacting these agencies, be able to communicate in Finnish or Sami," Sabuni told Sveriges Radio (SR). This move will hopefully encourage ethnic minorities to teach their children their native languages, thus passing the knowledge to the next generation.