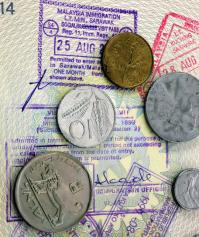 Last year marked a milestone for Finland as the Nordic nation's embassies around the globe processed a record number of visa applications during the year. The Ministry of Foreign Affairs reports that more than 800,000 visa applications were submitted in 2008, which is a tally some 12 percent higher than in 2007.
500,000 of the total 800,000 applications were made in the St Petersburg area and around 90 percent of the applications came from Russia. Of all the nations included in the Schengen zone, Finland easily processes the most Russian visa applications. Finland does not reject visa applications unless there are obvious reasons why the person should be refused entry.
Vesa Hakkinen, of the Finnish Ministry for Foreign Affairs, commented to the Helsinki Times: "There seems to be more and more money available [in Russia], with Russians increasingly travelling both for business and pleasure. Finland is of course the closest Schengen country to St. Petersburg, which makes it cheaper to visit than other countries."
Finnish diplomats working in the Nigerian capital Abuja have the dubious honour of rejecting the most visa applications in 2008. A new agreement between the EU and Russia to help speed up the visa process has only been implemented by Finland to date. Unlike many other EU nations, Finland does not require an invitation letter for Russians who want to enter Finland.