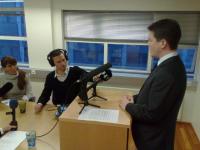 On the resignation of Bjorgvin Sigurdsson, Prime Minister Haarde said that he felt it was an undeserved act. Sigurdsson had done a tremendous job and been a trusted and good [political] partner. Haarde said that he respected Sigurdsson's decision, which had been taken to relieve certain tensions that had formed around his Ministry and institutions.
Ingibjorg Solrun Gisladottir, Foreign Minister and leader of the Social Democrats said that Minister Sigurdsson's resignation had taken her by surprise because he had performed his office in an exemplary manner. Nonetheless she respected his wishes, knowing that with his actions he was laying the groundwork for the future resurrection of the nation.
This was his decision entirely and with it, and his wish that the  directors of the Financial Supervisory Administration resign, he was giving precedence to others, including the administrators of the Central Bank. When asked, the Foreign Minister said it was premature to name his successor in the Ministry of Commerce.
"This is typical for a bewildered government". Said Steingrimur J. Sigfusson, the foreman of the Left Green party. "Instead of the party leaders coming forward in unison and declaring in an orderly fashion about changes in the government and institutions, one of the Ministers jumps ahead. With this trump he has put enormous pressure on the Independence party."
Gudjon A. Kristjansson, chairman of the Liberal Party said that the Minister's decision to resign was the right one. At the same time, said Kristjansson, this clearly weakens the foundations of the government and it was surprising that Sigurdsson didn't give the other party leaders an opportunity to discuss or share his decision.
Skuli Helgason, General Manager of the Social Democrats, stated that with the Minister's resignation, his party had shown initiative in the government of the country and proved that they understand that it is imperative to restore the trust between people and government before it's possible to prodeed with the resurrection of the society.