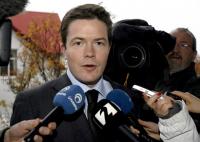 Bjorgvin G. Sigurdsson, Iceland's Minister of Commerce has resigned from his post. At the same time he announced that the director of the Icelandic Financial Supervisory Authority, Jonas Fr. Jonsson and the board of the institution are stepping down also. Sigurdsson stated that with this he is shouldering his share of the responsibility for the financial crisis. He also acknowledged that others bear responsibility as well.
Mbl.is reports: Bjorgvin said this decision was made last night and at the same time decided that the board and director of the FSA would have to resign also. This morning he informed the chairman of the board, Jon Sigurdsson, of his wish that the board should sack the director and that the board should then resign as well. Chairman Sigurdsson promptly turned in his resignation.
Former Minister Sigurdsson described his intention to keep his seat as a Member of Parliament and that he intended to take an active part in the Social Democratic party's campaign in preparation for the upcoming general election. He did not directly state his opinion on whether the present government should hold its post until the elections: that would be up to the party leaders, he said.
Sigurdsson said that nobody had pressed for his resignation. He had not discussed the matter with the party chairmen until this morning when he sent Prime Minister Haarde his letter of resignation. He said he made his decision alone yesterday evening in order to "untangle the knot that had formed", and wishes that this will help to create the political peace in the country needed to resurrect Icelandic society.
Furthermore Sigurdsson stated that he had all the time been aware of his political responsibility for the financial crisis and the inability to establish trust in the rebuilding of the economy, and that he had always intended to shoulder his part of the blame. At first he was confident that the government would regain the public's trust in their rebuilding efforts, but that failed. The public anger, distrust and rift between nation and government was too deep: "This [trust] will not be regained until changes in key institutions have been made," the ex-minister said.
Sigurdsson is the fifth minister to resign from office since the establishment of Icelandic home rule in 1918.