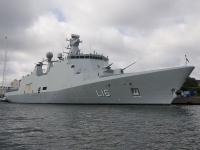 The Danish naval ship, HMS Absalon, is facing an unusual dilemma with the five Somali pirates it pulled out of the Gulf of Aden on 2 January. The pirates' ship was reportedly sunk by the very cargo vessel they were trying to attack when an emergency flare landed on the pirates' boat and sank it.
The HMS Absalon rescued the five Somalis, but because they were caught in international waters no one is quite sure what to do with them, according to the Copenhagen Post. The United Nations has given patrols the authority to pursue, and even sink, pirate ships caught pirating. But criminal prosecution is turning out to be a major headache because of the questions over jurisdiction.
A previous incident in September 2008 involved 10 Somali pirates who were captured by the Danish navy in the Gulf of Aden. The navy was eventually forced to release the pirates because they felt they could not be legally prosecuted in Denmark, and were concerned Somali authorities would execute them.
While the piracy issue is growing by the week, governments across the globe are struggling to find a solution to the situation that has disrupted international shipping as well as the cruise line industry. As for the five pirates currently held aboard the HMS Absalon; their fate has yet to be determined.