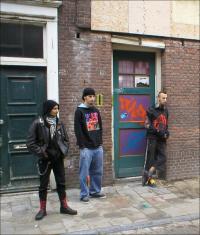 Police in Sweden have embarked on a mission to evict squatters living in the south of the country, with the university town of Malmo turning into something of a hotbed of activism. The squatters are not happy about an ongoing housing shortage in the region, so they've taken to the streets in Malmo and Lund to protest the need for more homes in southern Sweden.
The Local newspaper reported that around 100 demonstrators gathered in the heart of Malmo, while a group of young people in Lund's town centre hung banners from a building. The protests were the result of an earlier incident at an empty building owned by the Swedish National Rail Administration in Malmo in which nine people were arrested when police raided the house.
These mostly quiet university towns seem to have become a hub for squatting and protesting over housing shortages for the past two months. Weekly demonstrations and a continued, coordinated mission to occupy abandoned buildings have kept local police busy.
In the latest incident, four squatters climbed onto the roof of the building owned by the railway company on Malmo's Johanneslustgatan but were eventually convinced to come down by police. A fifth squatter was found hiding in the attic, and all were taken into custody for questioning. "They are going to informed that they are suspected of trespassing. They will then be released after questioning," said police spokesman Ronny Ivehed.