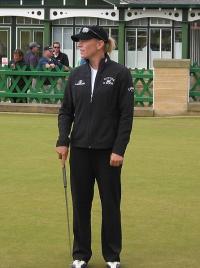 In an unfortunate end to one of golf's most legendary women golfers, Sweden's superstar Annika Sorenstam missed the cut for her final LGPA American tournament in Florida, bringing the curtain down on her 15-year career in rather anticlimactic fashion. She had hoped to last a little longer in the season-ending USLPGA ADT Championship, but didn't make it past the second round.
Sorenstam told the crowd she had received more joy from her legendary career than she had ever imagined possible. The Local newspaper reported that Sorenstam shot a three-over 75 to finish in 18th place. "It's almost that a tear wants to come out, but it's not really coming out," she said. "I think it's because I'm very happy with what I've done. You know, I'm content. I've said it all along, I feel good."
With 72 LGPA wins and 10 major championships under her belt, Sorenstam announced in May that she was calling it a day for competitive golfing and would be concentrating on other pursuits. The 38 year-old Swede will head to Dubai in December to play her final tournament of her long and illustrious career. The sporting world will certainly miss her talents and personality.