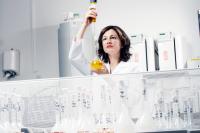 Clamelle Chlamydia Test Kits will soon be available in UK pharmacies allowing customers to test for Chlamydia without the need to visit a doctor or hospital.
The Clamelle test kit is purchased in a pharmacy, a urine sample posted off by the consumer to the laboratory and the result can be sent to the consumer by post or obtained from the pharmacy. If a confirmed positive test is received and if the treatment is deemed appropriate, following a sexual health consultation with the pharmacist, Clamelle Azithromycin 500mg Tablets can be supplied.
Clamelle Chlamydia test kit and tablets can only be sold by pharmacies that have registered for the Clamelle Chlamydia service. This service was launched three months ago and already over 7,500 UK pharmacies have registered with the NPA and received the chlamydia resource pack.
Clamelle Chlamydia Test Kits are produced by Iceland-based generic pharmaceuticals company Actavis.
(Advertisement)