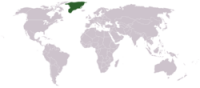 Inuit Brotherhood, the Greenlandic political party, is calling on parliament to follow in the steps of the other territories of the Danish kingdom and issue a loan to Iceland, Sermitsiak reported.
Following the agreements for a loan to Iceland from Denmark and Norway, 200 million EUR each, and the expected approval of the Faroese parliament to lend 300 million Danish kroner (45 million EUR), the Greenlandic politician Josef Motzfeldt says he will press parliament's Finance Committee to approve a loan.
'A friend in need is a friend in deed,' said Motzfeldt, currently attending a meeting of the Nordic Council in Helsinki. 'And right now, Iceland is in dire need.'
Motzfeldt recognised that Greenland was running a budget deficit, but said he believed it was possible to make cuts that would free up enough money for it to equal the Faroese loan of 300 million Danish kroner.