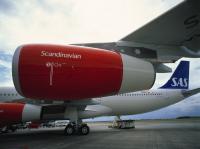 The recent spate of in-flight airline emergencies that has plagued carriers like Qantas, United and Spanair, can now include Scandinavian Airlines (SAS). An SAS flight travelling from Gardemoen in Norway to Stockholm was forced to make an emergency landing in Vasteras after the plane began to fill with smoke.
The Boeing 737 was bound for Stockholm's Arlanda Airport when smoke started to billow into the plane's cabin. All 101 of the passengers were wearing their oxygen masks when the aircraft landed at an airport in Vasteras in central Sweden. Although many of the passengers were frightened and in shock, there were no injuries.
Sonja Fredriksson, an emergency services spokesperson, reported to The Local newspaper that the plane, "Was full of smoke but it has landed and everybody is out. They're now cooling down the plane." No cause for the smoke has been determined yet. Johan Beischer from the Swedish air rescue services confirmed: "They stopped on the runway and made an immediate evacuation. We've heard from the tower that it went well."
SAS spokesperson Monica Hultberg said the captain could smell the smoke and made a quick decision to land at Vasteras. "The captain did of course have to react quickly because of the smell of smoke, which was why there were ambulances and rescue services in place," Hultberg said.