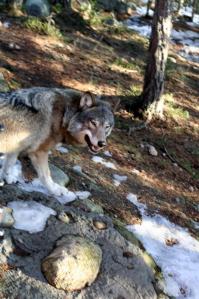 Recent remarks by Sweden's King Carl Gustaf XVI that wolves should be hunted in Sweden immediately raised cries of concern from local members of the Worldwide Fund for Nature (WWF). Speaking to journalists last week, the King stated that he was not against the idea of allowing Sweden's wolves to be hunted out of a concern that the nation's wolf population could potentially "explode."
The Local newspaper reported that the King's comments sparked a flurry of phone calls from concerned members of the WWF's Swedish chapter. The King happens to be the honorary chair of the WWF in Sweden, and its members wanted to know if the organisation itself held the same views.
It would appear that WWF does not share the King's views, as it quickly distanced itself from his comments. Tom Arnbom of the WWF told the TT news agency that "it hasn't been well accepted and we don't agree with what he said. There is no risk for an explosion in the wolf pack. From an international perspective, we have relatively few wolves in the country."
There are only about 200 wolves left in Sweden's pack, and they are a protected species. Swedish hunters, however, have been calling for an end to the protected status of Sweden's wolves for some time. Whether a cull would ever be allowed is up to the Andreas Carlgren, the environment minister, who is responsible for protecting Sweden's wildlife.