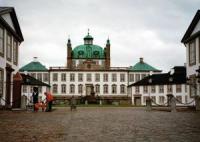 In a landmark move, Denmark will put its traditional rules for royal succession to a public referendum on 7 June 2009. The plan to challenge this historic procedure has been in place for more than 3 years, but Denmark's Prime Minister Anders Fogh Rasmussen has finally announced the date of the public vote.
According to Rasmussen, the reason for the challenge is that Denmark is trying to create a truly equal society. To properly achieve that, the same sense of equality must be reflected in the nation's monarchy.
Presently, the male children of the king or queen have priority to the throne over any daughters, regardless of their age. The Copenhagen Post reports that the new law would grant this privilege to the first-born child of the king and queen no matter what their gender. It's a major step forward in what is seen as an ancient and traditionally male-dominated process.
Such is the magnitude of the referendum that it had to be passed twice by parliament, both before and after the national election, to ensure that it was welcomed. Now that this part has been approved, at least 40 percent of Danes must vote in the referendum next June for it to be valid; and at least 50 percent of the voters must choose to pass the referendum before it can be law.