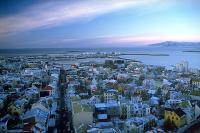 As many as two thousand people protested in a demonstration in Reykjavik yesterday against the management of the Central Bank of Iceland.
The demonstrators were irritated by the enforcement of the new monetary policy in Iceland and also by the unfortunate statements of the present Director of the Central Bank, David Oddsson. The crowd called for his resignation.
The protestors were holding banners with slogans 'where is our money?' and 'stop playing with our future' and promised to gather again next Saturday if their demands are not met.