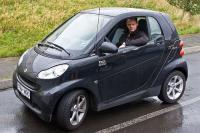 Reykjavik rent a car, a car rental service in Iceland offering a wide range of cars, recently introduced their new offer of ecologically friendly cars: Smart cars.
Their wide offer, also including high performance cars for driving in rural areas, reacted to the increasing demand for city cars, which should have low gas consumption and be small in size to make parking easier.
Due to the low CO2 emissions of Smart cars, their drivers can enjoy free parking in Reykjavik.
The high performance cars include top makes such as BMW, Mercedes, Jeep and Ford; all available with automatic gearbox and considerable engine power which is needed in the remote areas of Iceland.
All offered cars are equipped with a range of useful extras often needed in rural Iceland, such as GPS navigation, roof boxes, fuel cans, child seats and other accessories.
The staff of the company Reykjavik rent a car is ready to pick their customers up at Keflavik International Airport or deliver the chosen car to any Reykjavik hotel.
Visit the company website to rent their environmentally friendlier cars at www.reykjavikrentacar.is.