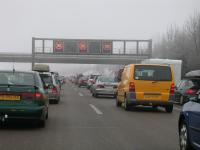 In an effort to make its roads safer for drivers, Sweden has equipped a stretch of its main E4 motorway with high-tech equipment that will warn drivers about dangerous driving conditions. A 4km section of the E4 between Pitea and Lulea is now fitted with 400 solar-powered devices that send information to a wireless network concerning icy roads, traffic and other conditions, The Local reports.
The Swedish Road Administration is working with technology companies Geveko and Eistec in the four-year programme. "Modern automobiles are being fitted with increasingly intelligent safety systems, but not everyone has access to them so we want to make the roads intelligent instead," project leader Wolfgang Birk of the Lulea University of Technology told the Ny Teknik newspaper.
The sensors, which are fixed to the road, change colour or flash before a dangerous section of carriageway. They also send information to road signs that display warnings. The biggest test of the system, however, will be if it can handle the brutal winters in Sweden's far north.
"The roads get pretty rough treatment with snow, ice and snow ploughs. If the technology can cope with conditions up here it will be able to withstand most things," Ake Lindmark, development manager at the Swedish Road Administration, reported to Ny Teknik.