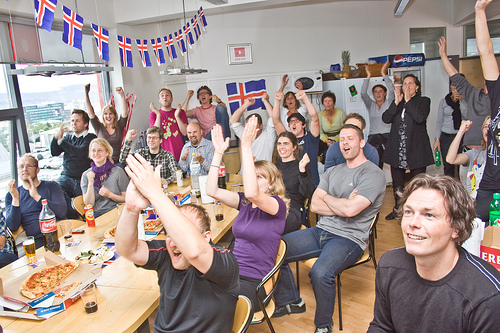 The Icelandic men's handball team played a promising game in the Olympic semi-final at midday today (Icelandic time). In an overly exciting match they managed to beat the Spaniards 36-30 and move on to the final.
Starting the game by five successive scores, they increased the chances of getting Olympic gold medals and no Icelander doubted their victory over Spain although the score difference was equal at times.
Iceland has made it to the Olympic semi-finals once before, but did not win a medal. France defeated Croatia 25-23 in the first semi-final match earlier today.
The final between Iceland and France will be contested on Sunday 24 August.
The goals for Iceland
Gudjón Valur Sigurðsson 7
Logi Geirsson 7
Snorri Steinn Gudjónsson 6
Ólafur Stefansson 5
Asgeir Orn Hallgrímsson 3
Alexander Petersson 2
Sigfús Sigurdsson 2
Ingimundur Ingimundarson 2
Róbert Gunnarsson 2
According to a local newspaper MBL.is Bjorgvin Páll Gustavsson goal keeper of the Icelandic team stopped 18 shots htting the net.
And goals for Spain
Albert Rocas 7
Iker Romero 5
Carlos Prieto 4
Juanín García 4
Jon Belaustegui 3
Rubén Garabaya 3
Alberto Entrerríos 2
Demetrio Lozano 1
Raúl Entrerríos 1