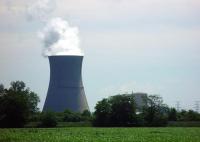 Finland's fifth nuclear power plant, which is currently under construction, has been put on ice pending new studies on the safety of its building methods. The suspension resulted from a report recently issued by Greenpeace that found irregularities in the welding.
Although Finland's nuclear safety authority (STUK) rejected many of the claims made by Greenpeace, it will conduct intensive studies on the safety and quality of the welds, which are critical parts of the reactors' structure. STUK's Assistant Director Petteri Tiippana said, "The ministry will ask for a report from us on this issue very soon and we are planning to respond to that within the next week".
This rare nuclear project in Western Europe that is being constructed by Teollisuuden Voima (TVO) is expected to be finished in 2011. It will be Finland's fifth nuclear reactor. The Gulf Times reports that the progress of the reactor, which has already suffered from a two-year delay, is being watched very closely by other members of the European Union who have been wary of building new nuclear power stations.
Tiippana is confident that the welds in question are up to standard. "The safety-significant welds in the concrete structures are well done. There are no deficiencies in the welding procedures, welding qualification and the welds themselves," he said.
But Greenpeace argues that its report also included load-bearing welds, which were not addressed by STUK. Lauri Myllyvitra, a Greenpeace official, stated in an email: "Six of the 11 welding procedure specifications we have obtained concern load-bearing welds. The documents undeniably show that when the welding of the reactor building started, the required specifications had not been finalised or approved and hence the welders did not know how to fulfil the safety requirements."