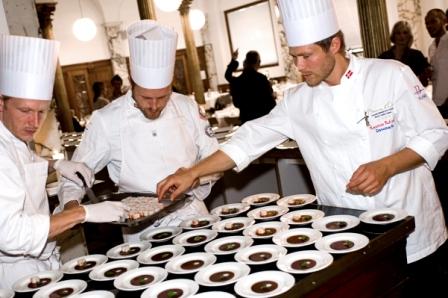 Iceland Express passengers to Copenhagen got a welcome surprise this morning when they were greeted with a box of chocolates as they boarded their plane in Iceland.
Iceland Express wanted to draw attention to the annual Copenhagen Cooking festival which starts tomorrow.
"Passengers were very happy with the gift and thankful for the good will of Iceland Express", said Maria Hjalmsdottir, program manager for Iceland Express, who stood at the entrance to the plane this morning and handed out chocolates to passengers.
The Copenhagen Cooking festival has been held since 2004 and features a large range of gastronomical events which take place all over the city. Oksnehallen exhibition centre will be running a food and lifestyle event with gourmet delicacies, Tivoli amusement park will be hosting its Gastronomical Days, and a vineyard on the outskirts of Copenhagen will be opening its doors to wine tasters.
"We have gourmet restaurants, activities for the whole family, a cooking school and wine tasting on the programme. In recent years the Nordic culinary tradition has been rediscovered and modernized and it will be a big part of the programme", said Thomas Meier Lorenzen, project manager at Wonderful Copenhagen in a recent press release.
The Copenhagen Cooking festival will take place from 22nd to 31st August. For more information visit: www.copenhagencooking.com
Iceland Express offers low cost flights to Reykjavik, Akureyri and Egilstadir in Iceland from Copenhagen, as well as flights to Reykjavik from 13 other European cities. For more information visit www.icelandexpress.com