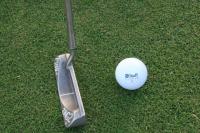 In her final golfing tournament on home soil, Annika Sorenstam didn't get the storybook ending to an illustrious career that she had hoped for, according to Yahoo.com. Amy Yang was the spoiler, tying the course record for the Scandinavian TPC and winning her first professional tournament by six shots.
Sorenstam, who is 37 years old, will be retiring from professional golf in December. She made a decent start to the final round of the Scandinavian TPC, moving into second place with an eagle on the 17th hole. But after slicing her tee shot into the water on the 18th, she had to settle for a disappointing tie for sixth place with three other Swedish players.
The South Korean Yang, who is only 19 years old, birdied 7 of 10 holes in the final round to take the top position on the leader board. This was Yang's first win as a professional golfer, and by tying the course record here it would suggest that she has a promising career ahead of her.
Sorenstam was still the centre of attention in many ways however; as this was the last tournament she will play in Sweden before retiring. The Hall-of-Famer has won 10 majors and 72 LPGA titles, making her arguably the best woman to ever play professional golf. She is retiring to get married and focus on other interests.