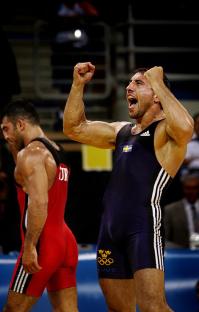 Swedish wrestler Ara Abrahamian won the bronze medal in the men's Greco-Roman wrestling event in Beijing but then threw the medal away in protest over his controversial loss in the semi-finals.
Abrahamian believed he had beaten Italian Andrea Minguzzi in the 84kg division, but the match was given to the Italian who went on to win gold.
The local newspaper writes that controversy had been swirling around the bronze medal event before it even started. Abrahamian's coach Leo Myllari got into a furious argument with the judges an hour before the Swede's match, accusing them of being corrupt because they had deducted a point against Abrahamian late in the previous match with the Italian that ended up costing him a spot it the final.
"My semi-final round loss today was totally unjustified. The controversial ruling shows that FILA (the sport's governing body International Amateur Wrestling Federation) does not play fair," Abrahamian claimed at the time. Italian Minguzzi had a different perspective, however, saying "in sports I think it is appropriate to show sportsmanship and respect the result."
Both Abrahamian's coach Myllari and the Swedish wrestling team feel the judges' verdict was unfair. The argument heated up so much that Myllari told the newspaper Expressen that they were planning to take the matter to the Court of Arbitration for Sport (CAS). Abrahamian threatened to boycott the bronze medal match and walk out, but changed his mind and competed, defeating Frenchman Melonin Noumonvi and winning his medal.