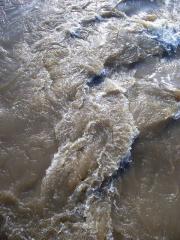 Several small towns in Fiji have had no access to clean water for the past six days, reports the Fiji Daily Post News.
Residents of Delainavesi, Lami and surrounding areas have been plagued by continuous water shortages with some people forced to taking water from nearby polluted streams. Many are questioning whether the Fijian Water Department is aware of the problem which has been affecting them since the beginning of the year.
A third of the population in Fiji does not have access to safe fresh water according to a BBC Panorama documentary, despite the south Pacific nation's thriving bottled water industry. Bottles of Fiji mineral water are a common sight in the US where the largest brand, Fiji Water, shipped the equivalent of 200 million bottles last year.
Sitiveni Weleilakeba, 51, of Delainavesi said the whole area had run out of water from Wednesday last week and life was hard for many ordinary families.
"We have been facing this almost a year now, and we have been asking the Water Department to have mercy on us with our children," he said.
Weleilakeba said that the situation had become so bad that some people had resorted to using nearby polluted streams to get water. He also said that students of Ballantine Memorial School had to go home early because of the water problems, which had been a regular occurrence.
Weleilakeba said that residents in the affected areas wanted to know the reason for the water shortages since they paid the same bills as other people from unaffected areas like the capital Suva.
Related stories:
Environmental frustration over failed bottled water tax in Fiji
The bottled water industry that leaves a third of Fijians with dirty water