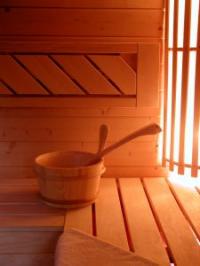 Sauna aficionados Finland withstood the heat longest to win the 2008 Sauna World Championships in Heinola, Finland, defending their current reign as sauna champs. To do so, the Finns had to outlast tough competitors from Belgium and Belarus, according to Yahoo! reports.
The competition saunas are much hotter than traditional Finnish saunas. "This is the wrong way to go to sauna, this is not about relaxing, this is competition," Ossi Arvela, the head of the competition, told AFP. But that doesn't stop dozens of sweaters from around the world coming to Finland each summer to test their personal heat endurance.
This year's men's champion, Finnish Bjarne Hermansson, stayed in the 110 degrees Celsius sauna for 18 minutes and 15 seconds. His skin dripping and beetroot red, Hermansson said "it feels wonderful, it is a dream come true." The Finn has been training in hot saunas for 30 years, and has entered this competition every year since its inception in 1999.
This year's female champion was Leila Kulin, who withstood the heat for five minutes and 21 seconds. In a nail-biting finish, Belarussian Natalya Tryfanava lost out by only one second. "The secret to my success was Finnish persistence," Kulin told reporters just moments after she emerged from the sauna as the 2008 champion.
The sauna world championships have been held in Heinola since 1999. There were 164 combatants representing 23 countries in this year's event. The Finns certainly have an advantage, however. Their country of 5.3 million boasts some 3 million saunas, and every Saturday virtually the entire nation heads to the nearest sauna to unwind.