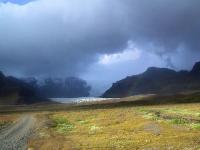 Europe's largest national park, which was opened at the beginning of June, is located in south Iceland and is over half the size of Macedonia.
Vatnajokull National Park is made up of the old Jokulsargljufur and Skaftafell national parks, as well as the entire Vatnajokull glacier.
Icelandic travel website www.South.is describes Vatnajokull National Park as the 'meeting point of extremes' – a sentiment instantly confirmed by the statistics.
Vatnajokull is the biggest glacier in Europe by volume and blankets six active volcanoes under its 8,000 square kilometres of ice. Fire and ice are extreme contrasts; but the National Park's sheer size is extreme too: 13,000 square kilometres, or 13 percent of the entire country.
Creating a national park over the whole glacier was partly a political move intended to draw attention to the rapid melting of Iceland's glaciers and to aid researchers in highlighting the reasons.
Although partly created for scientists, the second big winners will be the tourists coming to the south of Iceland. The park aims to have completed construction of its second visitors' centre shortly, and an additional four visitors' centres will be completed by 2012.
As well as this, rangers' stations will increase from four to 11 under the 10 million euro investment plan currently underway. Iceland hopes to see a total increase of five to seven percent in visitor numbers to the country over the next few years in return for the investment.
People interested in the south of Iceland and Vatnajokull National Park can visit www.South.is – a leading English language website for the tourist industry in south Iceland. The site contains information on accommodation, current events, restaurants and attractions as well as an inspiring collection of photographs from the area.