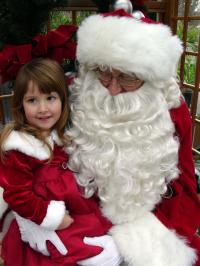 The annual World Santa Claus Congress kicked off another year in Copenhagen, bringing the spirit of Christmas to Scandinavia a little early. Even though it's a decidedly local event, people still come from around the globe to enjoy the festivities.
This will be the 51st year for the meeting of Santas from around the world. The congress got its start in 1957 as a small quirky Danish event. But this year, 136 festively-attired delegates are scheduled to attend the three-day affair, which is being held in a popular Danish amusement park. The majority of these bearded men come from Scandinavia, but there are also Santas from the United States, Russia and even Japan.
The action will take place in Copenhagen's Bakken amusement park, and feature activities such as Hula Hoop dancing, a bicycle parade, and a cool dip in Copenhagen's harbour. A pointed seminar on the struggles facing modern Santa Clauses is also on the agenda, as is a more serious visit with children at a local hospital.