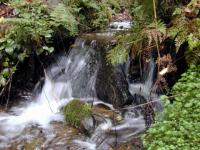 A third of the population of Fiji does not have access to clean drinking water, a BBC investigation has revealed.
The report, for its Panorama documentary series, showed how many Fijians are falling ill and dying from typhoid and other diseases caused by a lack of safe, clean water.
The irony is that the South Pacific islands have a flourishing bottled water industry, worth over $150 million per year and employing around 700 people. Bottles of Fiji natural mineral water are a common sight in restaurants and on supermarket shelves across the US and Europe, and have been featured on a number of popular televisions shows.
In early July the Fijian government announced a tax on bottled water designed to conserve the island's depleting natural resources, but it was forced to abort the project last week following pressure from the powerful water bottling lobby group.
The bottling companies subsequently halted operations and closed down factories, saying they could no longer operate effectively operate their businesses with the new tax.
The interim government's finance minister Mahendra Chaudhry said the tax was not new and had been imposed in other countries to generate revenue in a similar fashion. "The bottled water companies do not have to observe this [tax], they can pass it to the consumers," he said.
The protests were set to cost the country up to $3million in lost export revenue each week, forcing the government to drop the tax proposal last Friday.
For more information on the debate surrounding bottled water and the BBC Panorama investigation, visit http://news.bbc.co.uk/2/hi/programmes/panorama/7247130.stm