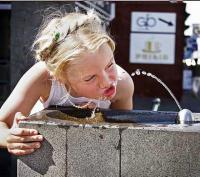 According to MBL.is, the summer of 2008 is the best since 1944 and probably the best summer since weather records began. According to Trausti Jonsson, meteorologist, there is little difference between the weather now and the heat wave of the 1940's.
The record for the highest temperature at Thingvellir (Parliament Fields) has been broken today, the old record stood at 29.0 degrees Celsius but today it reached a whopping 29.3 degrees according to official measurements from the Icelandic Meteorological Office.
The weather forecast for the next 24 hours indicates that the high temperatures may continue.