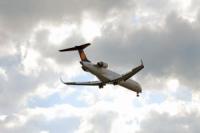 Just three months after taking the helm of JetLite, a budget carrier operating in Scandinavia, Finnish CEO Maunu von Leuders has given in his notice, reports The Economic Times. Lueders assumed control of the subsidiary of India-based Jet Airways in April, but a recent decision to merge the backend operations of both carriers has prompted Lueders to resign.
It is not clear, however, when Lueders will step down; or if JetLite will replace him with another Scandinavian CEO. JetLite has been suffering from cultural differences between its Indian parent company and its Scandinavian staff and crew.
Further embarrassments have come from frequent flight cancellations, operational delays and a rift between corporate cultures. By merging the backend operations, owner Naresh Goyal hopes to make the company leaner, improve teamwork and cut costs.
The airline recently axed 26 flights from its schedule and postponed the launch of new international routes due to the high fuel costs. JetLite has also lost more than 30 pilots, including 18 commanders over the past six months. Cultural conflicts were again sited as the cause of the recent staff exodus.